*ALL Items received are provided to me for FREE. I am asked to try the products and provide them with my true and honest opinion of each product*
Full Circle – Infuse and Reuse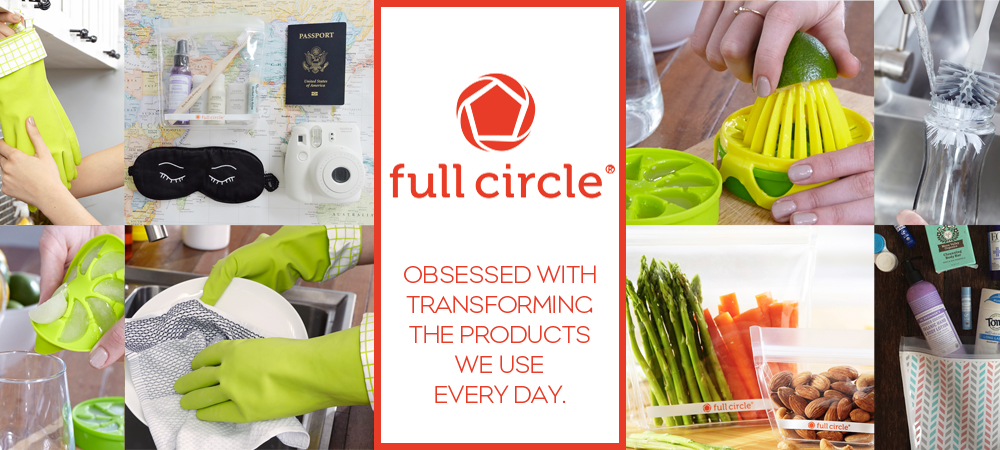 With a focus on sustainability, style, and functionality, Full Circle's innovative products help keep your kitchen and home beautiful, earth friendly, and inviting. Obsessed with transforming the products we use everyday, Full Circle's intentionally-designed tools let you live a better, more responsible lifestyle.
In this TryaBox, you'll experience several of Full Circle's fine products, including the fun Lemon Drops citrus ice infuser set/pack: created to ream the citrus of your choice straight into the reusable Lemon Drops™ ice tray and freeze, these vitamin-packed, flavorful drops add a zing to any beverage! You'll also find Full Circle's stylish reusable storage solution, the handy Ziptuck reusable storage bag—made with sustainable materials, the bag can even be popped into the dishwasher, ready to go again (and again, and again).
Learn more about Full Circle HERE!
I was so excited to get the opportunity to try out this group of products.  It is so easy to just do the "quick fix" and grab the items that are not so great for our environment.  I loved that this kit gave us other options.  My favorite was the Citrus Ice infuser.  This is a great item to have during the summer when my family seems to make lots of tea and lemonade.  Being able to make ice cubes from limes, lemons or oranges is an added bonus to those summertime drinks that always seem to get watered down when your ice melts.  The reusable food storage bags were a great idea since I hate throwing Ziplocs out.  I love that you can wash, rinse and reuse them again.  Overall, I was very impressed with the items I received.
Here's all of what I received in my #tryazon package:
Splash Patrol Natural Latex Cleaning Gloves
Durable, slip-resistant grip
Cuffed design to catch water (and keep you dry)
Super soft lined interior for comfort and hot water protection
Hang-dry loops for fast, clean drying
Full Circle Clean Reach Bottle Brush
A perfect fit for on-the-go drinking bottles and mugs
Slim, elongated design that's ideal for bottle necks
Replaceable heads extend use while minimizing waste
Full Circle Ziptuck Reusable Storage Bags
Reusable food-safe, BPA-free storage bag
Leak-proof, air-tight "lock" seal design
Stands upright for everyday use and storage ease
Chevron + Clear design
Full Circle Citrus Ice Infuser Set
2 BPA free silicone trays for easy release
Citrus reamer locks on to juice directly into trays
Add flair to your water and more
*ALL Items received are provided to me for FREE. I am asked to try the products and provide them with my true and honest opinion of each product*
Sterno MORE S'mores Party
The kids had a blast at our Sterno MORE S'mores party.  It was so nice to be able to do this so quick and easy with very little mess.  With this Sterno product, you can do S'mores anywhere!  There are spots to hold all your supplies and spots to prepare and make your S'more.  The older kids were able to do everything themselves, which is a huge plus!  This is a great idea and keeps us from having to start a small fire ever time the kids want to make S'mores.  Now that we have a quick, easy way to prepare these, S'mores will be a more frequent treat at our house!  
Learn more about Sterno Products HERE!
Grab your own Sterno S'Mores Maker on Amazon HERE!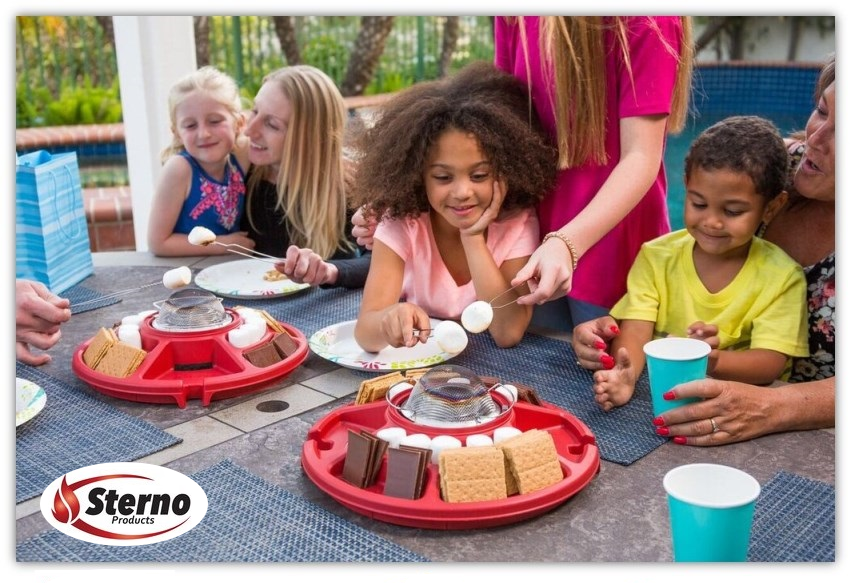 As the seasons march toward summer, what better way to enjoy the warmer weather than with a get-together with family, friends, and s'mores! And now Sterno is back with their crowd-pleasing, ever-so-handy S'mores Maker. Built with entertaining and family fun in mind, the S'mores Maker brings the joy of making s'mores by the fire to any location—indoors or outdoors!