*ALL Items received are provided to me for FREE. I am asked to try the products and provide them with my true and honest opinion of each product*
Sterno MORE S'mores Party
The kids had a blast at our Sterno MORE S'mores party.  It was so nice to be able to do this so quick and easy with very little mess.  With this Sterno product, you can do S'mores anywhere!  There are spots to hold all your supplies and spots to prepare and make your S'more.  The older kids were able to do everything themselves, which is a huge plus!  This is a great idea and keeps us from having to start a small fire ever time the kids want to make S'mores.  Now that we have a quick, easy way to prepare these, S'mores will be a more frequent treat at our house!  
Learn more about Sterno Products HERE!
Grab your own Sterno S'Mores Maker on Amazon HERE!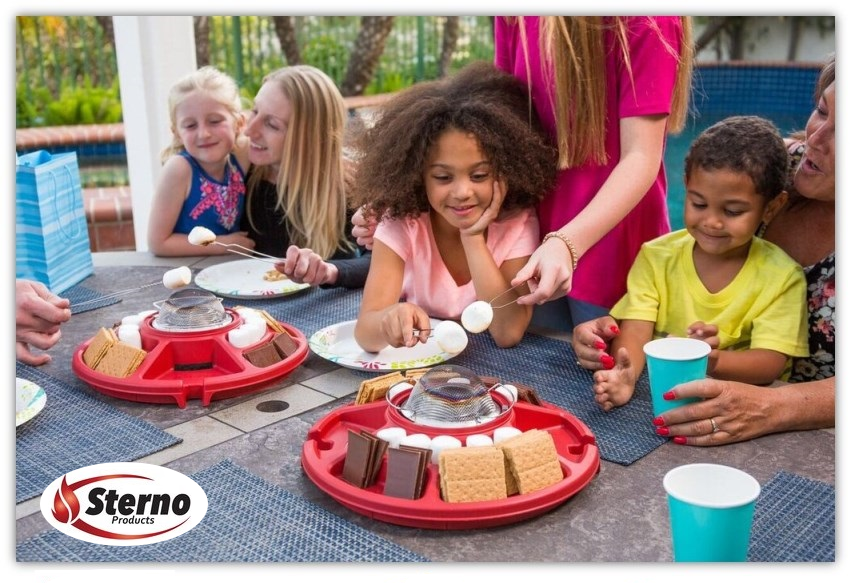 As the seasons march toward summer, what better way to enjoy the warmer weather than with a get-together with family, friends, and s'mores! And now Sterno is back with their crowd-pleasing, ever-so-handy S'mores Maker. Built with entertaining and family fun in mind, the S'mores Maker brings the joy of making s'mores by the fire to any location—indoors or outdoors!
*ALL Items received are provided to me for FREE. I am asked to try the products and provide them with my true and honest opinion of each product*
SpinTales Pop-Up Storytelling Party

We had an awesome time trying out this product.  The rug was amazing and the kids loved it!  It was really cool that we could watch with or without getting involved.  The younger ones had fun just watching the stories unfold, while the older ones loved that they got to be part of the story.  The rug itself is colorful and will be a great addition to a child's bedroom, even when not being played with.  The only drawback we found was that only one device could be linked to the rug by scanning the QR code on the rug.  In a household with multiple children, this will be an issue.  If only one child is able to link their tablet to the rug, then that one tablet must be shared and we all know how children LOVE to share ♥.  It would be nice if SpinTales would open this up to allow multiple links so that each child has the ability to link their personal device and have their own experience.  A camera feature inside the app would be a neat addition also.  The children would then have the ability to see themselves inside the story.  Other than that, the product is an amazing new spin on story time and gets the whole family involved.  The kids are more active, which I love more than anything.  In this technology based world, a lot of time is spent on devices or video games, with very little movement.  This gets them up and moving while having fun!
Learn more about Spin Tales HERE!
Grab your own Spin Tales products on Amazon HERE!
About the Spin Tales Product line:
SpinTales combines beautiful home textiles with a FREE app to create magical storytelling experiences that pop-up and are experienced in your kid's room! With a focus on creative storytelling and educational activities, SpinTales offers a unique, dynamic, and playful experience for children and parents. SpinTales makes story time more playful and screentime more active.
This revolution in storytelling is driven by the seamless integration of patented technology for interactive augmented reality and textiles. Each story includes beautiful animations, augmented reality and educational activities. There are currently two SpinTales products available and each product comes with 3 FREE stories!