*ALL Items received are provided to me for FREE. I am asked to try the products and provide them with my true and honest opinion of each product*
Kaskey Kids Super Bowl Party
The kids had a blast at their Kaskey Kids Super Bowl Party!  They got to play to their own creativity since there were really no set rules.  The instructions explained the game of football, but ultimately it was up to them to explore and strategize.  They learned some of the rules from the adults playing with them and I love that it got everyone involved, having fun.  They kids enjoyed decorating the cake with their football guys too! #tryazon #kaskeykids
Inspire imagination and open-ended play with Football Guys: featuring a complete bundle of football action figures that make up two full teams, a realistic felt field, and other sports accessories packed into a handy storage container! These rugged action figures are also useful for visual teaching aids and decoration.
Just the facts
In 2002, Christy Kaskey blended her desire to find the perfect toy for her sports loving kids with the memory she had of her brothers entertaining themselves for hours on end with the classic action figures of their childhood: Army Men, Super Heroes and Cowboys and Indians. Throughout the design process, Christy wanted to retain the value behind these classic toys and the benefits they gave of open-ended, child-driven, fun, and imaginary play, but wanted the action figures for her children to focus on the sports they loved. Christy credits the success of each of the toys to the feedback she received from her own children during the design phase as well as the boys and girls in their kindergarten and 1st grade classrooms who acted as her focus groups.
Each toy in the Kaskey Kids line has been recognized in the industry for the creative and imaginative play they inspire, but the greatest satisfaction Christy feels is when she hears from a parent how much her toys are loved by their children. "Knowing that my toys are chosen, loved and played with, even with all the high tech electronic options out there, is very satisfying." After ten years in business, a trend that Christy hopes will continue is the gender neutral way many of her customer's view her toys. "We knew Soccer Girls would be a hit for 3-8- year-old girls, but I have been thrilled to hear that so many fathers are spending time with their daughters using Football Guys, Hockey Guys and Baseball Guys. Playing with our toys is a great way for a parent to pass on the love of a sport and in some cases, explain the rules.
Where to purchase
" For more information about Kaskey Kids, please visit: http://www.kaskeykids.com/
*ALL Items received are provided to me for FREE. I am asked to try the products and provide them with my true and honest opinion of each product*
This party pack by #Creo and #Tryazon was AMAZING!  My only negative (and is easily overlooked) is the lack of lids for the 3 bakeware provided.  The dishes cooked the food for our Friendsgiving very evenly and only took slightly longer than normal.  The collapsible food storage containers are my favorite part!  With these storage containers, I can finally get rid of my "tupperware cabinet" as these will easily fit in a far smaller space and stay organized.  I will be expanding my Creo collection very soon!
Please read more about Creo below: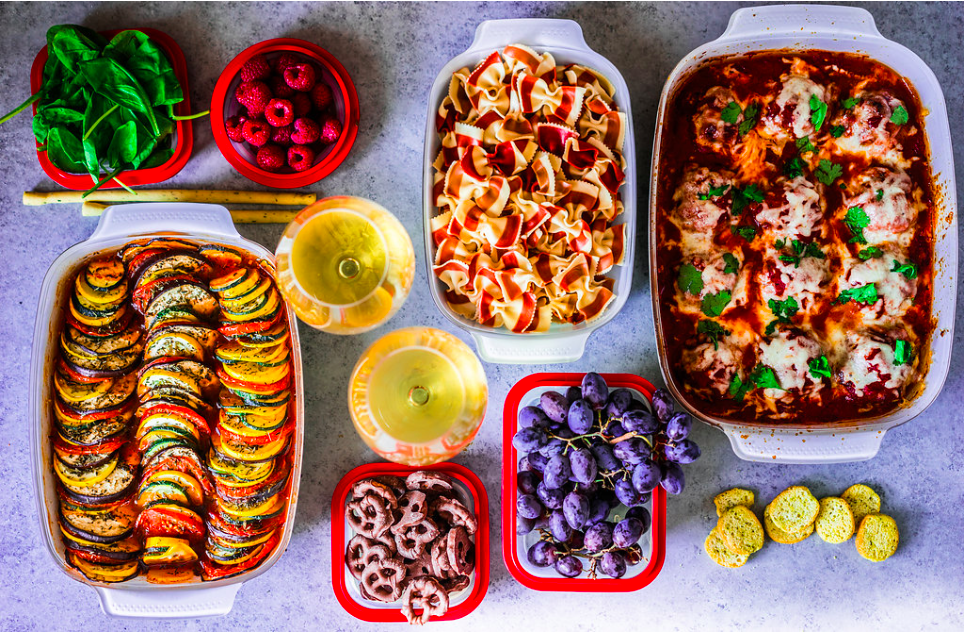 Creo has a Latin origin that means, "to create." It begins with expressing the originality and creativity of home chefs who have their own distinct tastes. They are avid and enthusiastic artists, treating their kitchens as their studio's for self-expression. But our inspiration extends beyond the cooking process, making the company as important as the cuisine.
We are a brand tailor-made for a new generation looking for products that help create lasting moments.
Introducing Smartglass™
The innovative kitchen material that's simply brilliant™.
Your kitchen is all about creation, not compromise. That's why we designed a line of bakeware with Creo Smartglass, an innovative material that produces applause-worthy results you'll be proud to share.
We start with some of the strongest glass available, then temper it to be more resistant to temperature change, known as thermal shock. While most tops out at 350ºF/176ºC, all Smartglass pieces can go up to 450ºF/232ºC, which promotes the nutty caramelization that helps make your favorite dishes so special. The final touch is a beautiful yet durable ceramic exterior in picture-perfect colors that complement your creativity and help set the mood tableside.
– Revolutionary combination of a tempered borosilicate glass interiorwith a ceramic exterior for more consistent performance
– Safe from oven to table to freezer
– Highly resistant to thermal shock
– Heat resistant to 450ºF/232ºC
– Nonreactive materials ensure consistent cooking
– Dishwasher, oven, microwave & freezer safe